As promised, I'm back!
And, with a variety of cooking recipes, some old, some new. Besides arranging online corporate and holiday cooking parties, I also do personalized cooking classes for small groups as well. Or you could just sign up for one of my classes .
Do check out my website for interesting information on your favourite subject, and mine too … cooking!
Looking forward to cooking with you,
Amica
To know more about our delectable Indian meals, click here
About
Amica
My name is Amica Sinha, and I am a teacher, wife, mother of 4 and an avid home cook. It all started when my parents immigrated from Mumbai, India, to Toronto in 1966. Growing up, with a sparse sprinkling of Indian restaurants near us, both my mother and grandmother were very adamant about making traditional Indian food and Indian sweets at home from whatever was available locally. Learning about the complexity of Indian cooking, from the unique ingredients to the variety of flavours, is where my love for cooking started. Even at a young age, when visiting an Indian restaurant was a near impossibility, I was always experimenting with whatever was in our kitchen, creating new recipes of Indian food, and this in turn helped broaden my horizons to non-Indian dishes and baking as well.
Being vegetarian also unlocked my creativity for cooking healthy meals. However, as a mother of four, I learned that quick and healthy meals were often not enough; they had to be visually appealing, and delicious as well. Involving the kids in the cooking process also fostered their love of good food. To this day, I love trying out recipes from different countries and experimenting with many plant-based sources of protein.
When COVID-19 hit, like many families, we were unable to meet up. My son, who lives in Montreal, wanted to learn how to make Indian food, specifically aloo parathas, so we decided to make them together virtually through video chat. Gradually, my friends and my kids' friends also started joining these calls and that's how my online cooking classes began. With my roots embedded in Indian cuisine, a background in teaching and these online classes, I am able to combine my profession with my passion for cooking.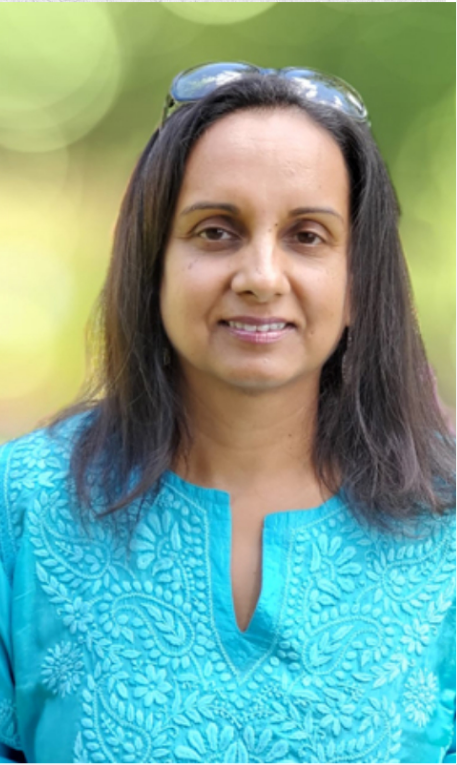 Enjoy Our Proposal
Special Offer
Is there a particular dish you'd like to learn how to prepare, on a special date?
Here's a unique way to celebrate a Birthday, an Anniversary, Christmas or any Special Event!
A personalized class, for small groups, where you have fun, while you learn how to cook. Let the party begin!
Contact me for further information on these special classes.
Email : [email protected]
Butter Paneer Class
Starts in:
Subscribe Now
Stay up-to-date with our new culinary recipes, news and cooking tips.
What Our Customers Say
Testimonials
I spent a wonderful evening cooking with Amica and 6 friends. We were each in our own kitchens, close to our own tools and ingredients, with our laptops close to our stovetops. It was so much fun! Amica led us through the steps to cook two delicious Indian dishes, with patience and grace. It was so helpful to have her guidance live – this is how your sauce should look, here is what you can substitute if you're missing an ingredient, taste and add salt or sugar, turn up/down the heat if needed, add more water to keep it from sticking. She shared tips on ingredients, shortcuts and answered all our questions as we went along. It was a fun and supportive way to try something new, and the results were amazing. Thank you, Amica!
I had the pleasure of participating in one of Amica's zoom cooking classes where we made two dishes! I had never prepared either of these dishes and was impressed by Amica's ability to walk us through the process, step by step. She was personable, enthusiastic, and knowledgeable about the recipes we were preparing. The final result was a delicious meal!
It was delightful to prepare the dishes with my friends as well as enjoy a wonderful meal.
Thank you Amica for a great evening!
I've taken two cooking classes with Amica so far and really enjoyed both experiences. Amica provides thoughtful tips and a bit of history throughout the class. She suggests modifications to adjust the dish to fit your family's dietary restrictions/preferences. Amica regularly checks in on you and your dish to make sure it turns out perfectly. Her directions are clear and easy to follow. She even includes simple recipes for accompanying sides. I thoroughly recommend Amica's classes to anyone who wants to learn to cook healthy, delicious Indian cuisine from home. Her classes would also be a fantastic opportunity for a fun, socially-distanced activity with friends.
My family and I were led through three amazing meals that we're still raving about weeks later. Amica was warm, kind and patient with us as we navigated through the cooking process, and we had so much fun together. She made sure everyone was on the same page and would occasionally drop these incredible tips or pieces of information you couldn't find anywhere else. I would recommend Amica's cooking classes to anyone looking for restaurant-quality meals at home, we couldn't have asked for a better afternoon or a more knowledgeable teacher. Thank you, Amica!
I had a lot of fun learning from Amica. No question was too silly, no mistake was unsolvable, and she was endlessly patient, cheerful and knowledgable. It felt like spending time with a friend! Amica had lots of practical tips throughout the class that I can use when cooking the recipe again. And the result was amazing — almost exactly like what I've tasted in restaurants! My family loved it!
I have had the good fortune of participating in a handful of online Indian cooking classes with Amica from the comfort of my own kitchen.  All meals were vegetarian but she offered suggestions for incorporating meat as well as how to make the meals vegan-friendly.  Amica provided good direction before each class on ingredients required, offering options and substitutions.  Specialized kitchen equipment was never mandatory and she described work-arounds and alternatives for types of pans, utensils etc.  Really it couldn't have been easier to learn from home without feeling like I had to shop to outfit myself for an Indian kitchen.Amica's teaching style is clear, patient and supportive (she could tell when I started panicking over my failing roti's and walked me through how to rework my dough for success!).  I felt confident after each class that I could reproduce the meal on my own and in fact some of the dishes have become favourites.  I recently dehydrated Amica's Dahl Makhani for a canoe trip much to the joy of fellow campers.  Amica's knowledge and experience with Indian cooking is second nature and her enthusiasm and attitude are a delight.  Amica's classes have infused my kitchen with some new energy and I am thrilled with my new skills.  The classes were a highlight of the pandemic lockdown and always an enjoyable afternoon with delicious results.
Thanks Amica!
"Cooking with Amica is such a wonderful experience. Her Indian cooking classes have kept me entertained each week and my family well feed throughout the Lockdown. It truly is a highlight of my week. Amica shares her love of her culture and culinary arts in each class, with easy to follow instructions and a little history of where each dish originates in India. Finally, and most importantly, her dishes are always DELICIOUS and a huge hit at my house. I look forward to her classes and plan to continue to take more in the future. Thank you Amica!"
During this quarantine, I was looking to enhance my Indian cooking skills. I've always been exposed to Indian food, but never learned firsthand what went in to making the dishes. Amica has been a wonderful hands on instructor, thoroughly explaining each step. She is meticulous and clear about the ingredients. And she checks on your progress during the class to provide individual advice. It has been such a great way to learn a new skill from home. You also have a supportive group cooking along with you. The best part is – you end up with a great meal to show off to your family and enjoy after the class! Highly recommend these sessions … lots to learn, easy to follow, and delicious food to devour after.
Thank you for the wonderful cooking classes. Your lessons are always outstanding and learning hands on from your super easy to follow and professional instructions was a great experience. The ingredients for each meal were easy to find and we will be taking away the techniques we learned for all our future meals.
Thank you again!
Cooking With Amica has changed my kitchen! New spices have moved to the nearest shelf and amazing smells now emanate on Saturdays.  I have never been an adventurous cook and I'm not sure, were it not for the Pandemic , I would have signed up. However, not knowing how to pronounce the dish or what the final product should look like, was not even an issue.
Amica is the most accommodating teacher ever.
Kind, flexible and supportive – that's Amica. These qualities can only come with expertise and experience. Not able to find an ingredient? No problem, try this instead.
If you want a terrific community of cooking friends, bring yours and look no further than Cooking With Amica! You can thank me later!