About
Amica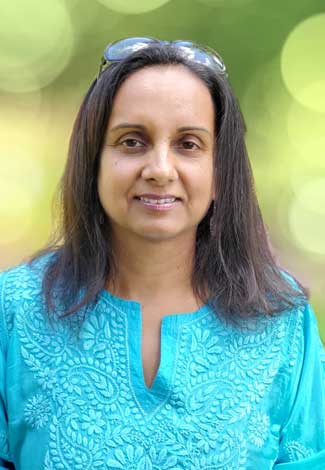 My name is Amica Sinha, and I am a teacher, wife, mother of 4 and an avid home cook. It all started when my parents immigrated from Mumbai, India, to Toronto in 1966. Growing up, with a sparse sprinkling of Indian restaurants near us, both my mother and grandmother were very adamant about making traditional Indian food and Indian sweets at home from whatever was available locally. Learning about the complexity of Indian cooking, from the unique ingredients to the variety of flavours, is where my love for cooking started. Even at a young age, when visiting an Indian restaurant was a near impossibility, I was always experimenting with whatever was in our kitchen, creating new recipes of Indian food, and this in turn helped broaden my horizons to non-Indian dishes and baking as well.
Being vegetarian also unlocked my creativity for cooking healthy meals. However, as a mother of four, I learned that quick and healthy meals were often not enough; they had to be visually appealing, and delicious as well. Involving the kids in the cooking process also fostered their love of good food. To this day, I love trying out recipes from different countries and experimenting with many plant-based sources of protein.
When COVID-19 hit, like many families, we were unable to meet up. My son, who lives in Montreal, wanted to learn how to make Indian food, specifically aloo parathas, so we decided to make them together virtually through video chat. Gradually, my friends and my kids' friends also started joining these calls and that's how my online cooking classes began. With my roots embedded in Indian cuisine, a background in teaching and these online classes, I am able to combine my profession with my passion for cooking.