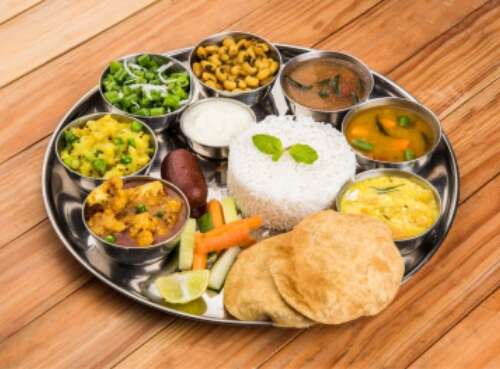 A culinary delight- Thali
It's local, it's indigenous, it's nutritional, it's aromatic, it's colourful, it's a harmony of flavors; a typical Indian meal that provides you with that 'special' taste of India, on one single platter!
Introducing, the Indian thali, a platter in which is served one of the most aromatic and delicious traditional meals you could ever find in the country. Put simply, a thali is a round, stainless-steel plate, on which is neatly placed a number of small katoris (round bowls), also made from stainless-steel.
As you travel across India, each region has its own unique style of thali, offering you an array of seasonal, locally prepared delicacies. The prices may vary, the fare may differ (vegetarian, non-vegetarian), the meals may be cooked in pure ghee, coconut oil or butter.
From a simple, highly nutritious meal in a quaint roadside eatery satisfying the hunger pangs of a tired traveller, to a feast—fit for a king — at a 5 Star restaurant; the key components of the thali however more or less remain the same.
There are no fixed rules, it all boils down to a beautiful blend of dishes! Let's take a look at some of these components:
Roti/ Chapati/ Puri /Naan/ Thepla /Kulcha – bread by different names from different parts of the country that can be used to scoop up the variety of gravies and dals.
Dal (lentils/beans), sambar and rasam (a blend of lentils, spices and vegetables) – prepared in different ways.
Rice – steamed, jeera rice, coconut rice, curd rice; to name a few.
Cooked seasonal vegetables– prepared either in a gravy/ a curry ( peas and potatoes cooked with tomatoes), or dry, like stuffed okra and bhajias /pakoras (vegetables  mixed in chickpea flour and deep-fried )
Non vegetarian delicacies- all traditional preparations
Accessories – papad, pickles, chutney, salads
Curd(yogurt), raita (yogurt with finely cut salad)
A glass of lassi / chaas (butter milk)/ sol kadi (a coconut milk drink with kokum)
Desserts – aamras (mango pulp), kheer (rice cooked in milk), bassundi (sweetened condensed milk), shrikhand (sweetened strained yoghurt), payasam (rice and lentils) and other mouth-watering delights distinctive to each region.
You may not see the 'typical' metal thali when you visit South India. But the same wholesome meal is presented to you in a different way; on a traditional banana leaf, flavoured with the distinct touch of coconut milk and coconut oil!
The number of dishes in a thali is also never constant. It increases on special days; weddings, festivals, religious ceremonies!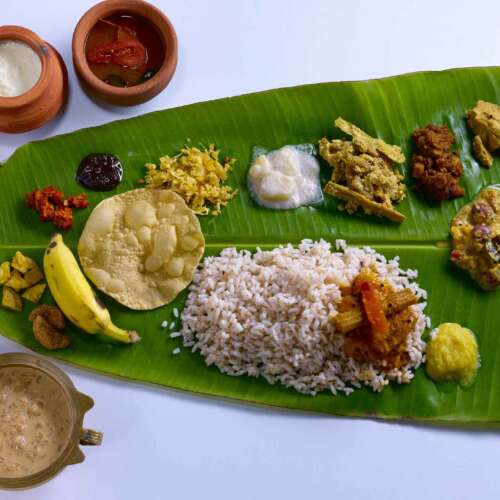 A meal from South India on a banana leaf
There's more to this well prepared, well presented meal than meets the eye. This, so called 'little bit of everything' provides you with the nutritional balance essential for healthy eating. The well-proportioned servings ensure, that although irresistible, you still need to hold back —self-control—to avoid over eating!
Remember, no matter where you are North, South, East or West, pressed for time yet determined to experience the flavours and aromas of a typically Indian meal, you don't have to think twice; simply opt for the local thali!
From your first gasp, "Oh! How, am I ever going to get through this?", to the final, "I certainly did do justice to it," this culinary delight, with its blend of tastes; sweet, sour, spicy and more, is sure to leave you with an experience of the flavours that truly make up India!