EQUIPMENT:
1 large pan with a lid, A spoon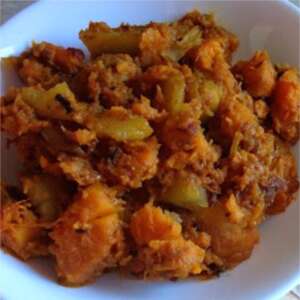 Ingredients
1 large (½ kg) Butternut squash (cut into 1 ½ inch cubes)
2 large (½ kg) Potatoes ( in cubes – smaller than the butternut squash)
3 tbsp plain Yoghurt
1 medium size Tomato (chopped)
½ tsp Mustard seeds
1 tsp Cumin powder
1 tsp Coriander powder
1 tsp Red Chili powder
½ tsp Turmeric powder
½ tsp Asafoetida (hing) (optional)
1 stick of Cinnamon
2 Cardamom
2 Cloves
2 Bay leaves
 1 tsp dry Mango powder (amchur) or 1 tsp Lemon juice
1 tsp dry Fenugreek leaves (kasuri methi), crushed
3 tbsp of Vegetable or Olive oil or Butter or Ghee
  Salt to taste
PREPARATION
 Wash and wipe dry the butternut squash & the potatoes.
Peel the outer rind of the butternut squash. Slice into half and then into equal strips lengthwise and breadthwise.
Cube the potatoes.
Finely chop the tomatoes.
Measure out the other ingredients.
Serve with:  Naan or Roti, Steamed Basmati Rice
 Tips:
While choosing the butternut squash, make sure it is firm and the skin is smooth, without any blemishes .
The potatoes are cut smaller than the butternut squash because they take slightly longer to cook.
Serve with:  Naan or Roti, Steamed Basmati Rice